5 Next Cryptocurrencies To Explode July 2021 Week 3
The more the market subsides, the more potential there is for the biggest cryptocurrencies to rebound strongly. This seems to be the dominant theme in crypto right now, with the market's total value slipping to $1.35 trillion in the past 24 hours. This represents a 48% dip compared to the $2.6 trillion cap the entire market hit on May 12. And while this might seem like bad news for many would-be bulls, it arguably sets many leading coins up for something a big recovery. As such, we've compiled a list of the 5 next cryptocurrencies to explode. This mostly covers coins with the significant short-term potential, although it will also touch on cryptos with long-term appeal as well.
5 Next Cryptocurrencies To Explode
1. Bitcoin (BTC)
The market falls with bitcoin (BTC), and it rises with bitcoin. In other words, bitcoin is always a safe bet (as far as crypto is concerned), since the market generally doesn't rise with BTC rising first. The same also often applies in the opposite direction, with BTC falling by 3% in 24 hours, and the overall market falling by just over 4%. BTC is also down by 5% in the past 7 days and 17% in the past 30.
It's worth remembering that the early-2021 bull market began with BTC leading the pack. It jumped from just over $19,500 on December 1, 2020 to $58,000 by the end of February. It was only when it began rising strongly that other major coins really followed suit. It's likely that the same will happen again if the market enters another bullish phase this year.
This view is supported by a steep increase in correlation between the top 20 cryptocurrencies. Basically, the market has fallen with bitcoin, and it won't recover without BTC.
Correlation between top 10 crypto assets has greatly increased since mid-May pic.twitter.com/8kgskFvvt1

— skew (@skewdotcom) June 18, 2021
2. Uniswap (UNI)
Uniswap (UNI) has fallen more sharply than the rest of the market in the past 24 hours. At $17.50, it's 10% down over the past 24 hours and 21% down in the past week. It's also 60% below its all-time high — set on May 3 — of $44.92.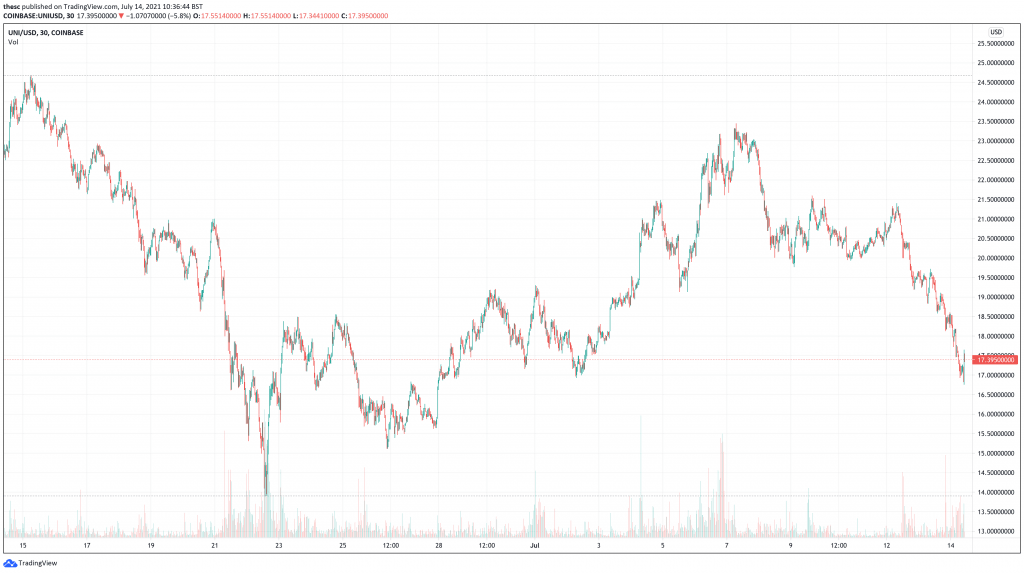 However, these big falls highlight the volatility that makes UNI one of the likeliest cryptocurrencies to explode. Prior to its recent drops, it rose by 60%, from $14.46 (June 22) to $23.33 (July 7). This is one of the biggest rises by any major coin over this timeframe, and only the market-wide fall since July 7 stopped it from continuing.
Looking to the future, there are plenty of reasons to be bullish about UNI. According to DeFi Pulse, Uniswap is the second-biggest DEX in crypto, behind Curve (although CRV isn't even in the top 100 of coins). More significantly, as a decentralised exchange, it's likely to avoid the kind of regulatory pullback that has made life difficult for Binance (for example) in recent months. This could help it — and UNI — to grow in the future.
3. Ethereum Classic (ETC)
Ethereum classic (ETC) is one of the best-performing top-50 coins over the past 90 days. Its price of $44 represents a 55% increase across the past quarter, while it's also up by 600% in the past year. Of course, with the recent market downturn, its good fortunes have been reversed somewhat. It's down by 6% in the past 24 hours, 18% in the past week, and 25% in the past month.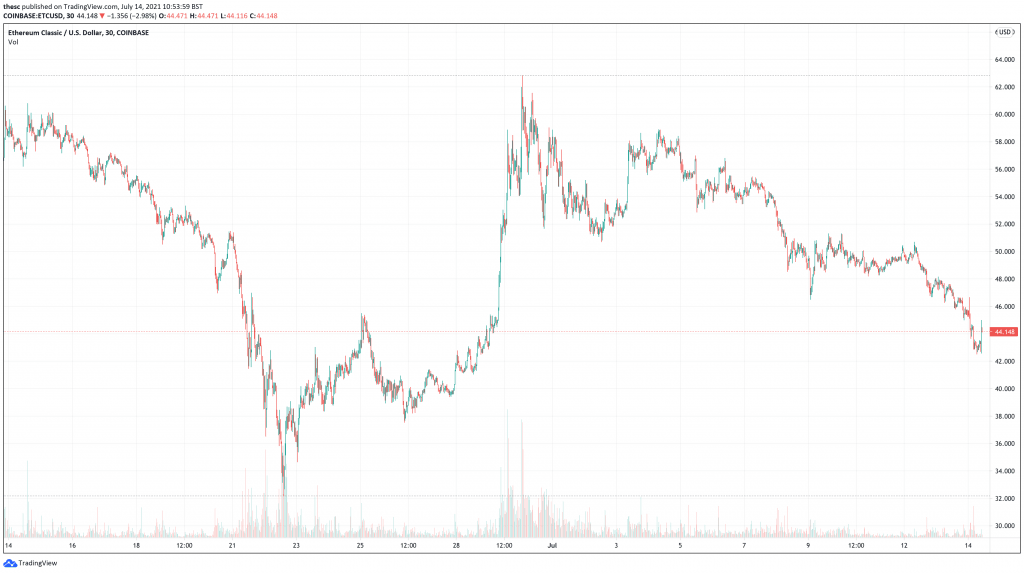 ETC witnessed some impressive surges before the recent pullback. It jumped by nearly 30% in a single day at the end of June, while it also climbed by over 80% between June 22 and June 30.
This makes it a prime candidate to do something similar again under more favourable conditions. Not least because it will soon be buoyed by Ethereum's (eventual) transition to a proof-of-stake consensus mechanism. Due to happen at some point in late 2021 or early 2022, this transitions will result in many former Ethereum miners flocking to Ethereum Classic. In turn, ETC's price is likely to rise healthily. And while the transition is still likely several months away, we could see the market price it in before then.
4. Terra (LUNA)
Terra (LUNA) is one of the few top-50 cryptocurrencies to witness some consistent gains in the past month or so. At $7, it's 8% up over the past week and 16% over the past fortnight. It's also 15% up over the last month and over 3,000% up across the past 12 months.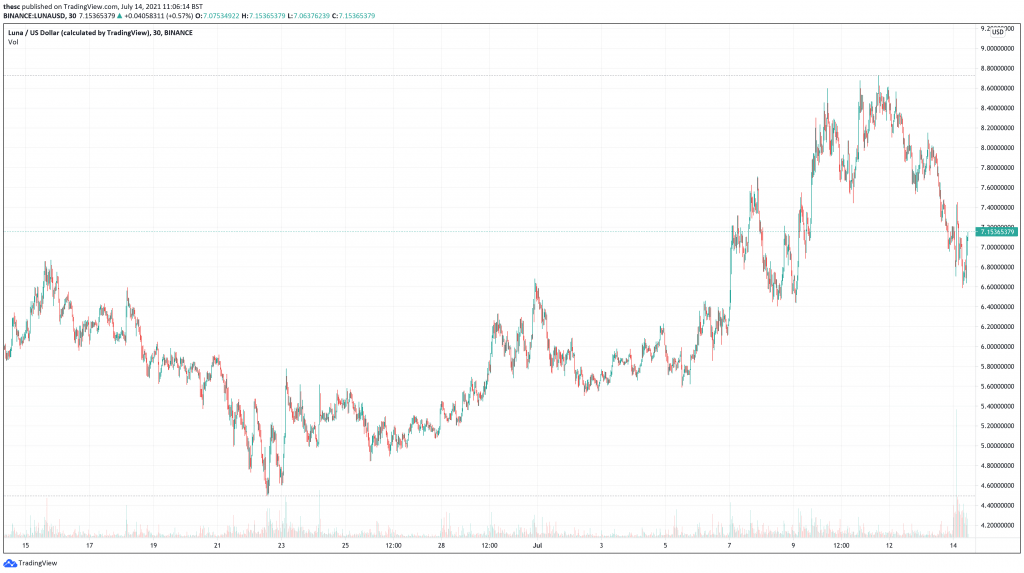 Despite experiencing a 24-hour fall, this recent gains reveal the momentum LUNA is currently generating. As a blockchain platform for creating programmable money and algorithmic financial services, Terra has recently announced a number of new partnerships and initiatives. The most high-profile of these is its July integration with Harmony, a blockchain for decentralised application.
Excited to share that our joint proposal with the @terra_money team to drive adoption for $UST on Solana has been very well received by the $LUNA community, and the proposal has been put up for voting by the DAO. https://t.co/zmPPl9Fs0E https://t.co/kD5mzIIZu4

— Mercurial Fi (@MercurialFi) July 13, 2021
Likewise, its Mirror Protocol — a platform for issuing synthetic assets — reached $1.8 billion in total value locked in April, and has largely stayed that way ever since. This kind of growth underscores why LUNA is one of the likeliest cryptocurrencies to explode once the market recovers.
I really do believe $LUNA will be one of the leaders in alts as the market begins to recover. There's a reason why I've encouraged everyone to continue to stack it. When the FA and the TA align, you stick to the plan.

— K A L E O (@CryptoKaleo) July 10, 2021
5. Cardano (ADA)
Cardano (ADA) is sliding with the rest of the market. It's down by 4% over the past 24 hours, to $1.24. This means it's also down by 12% in the past week and 20% in the past month.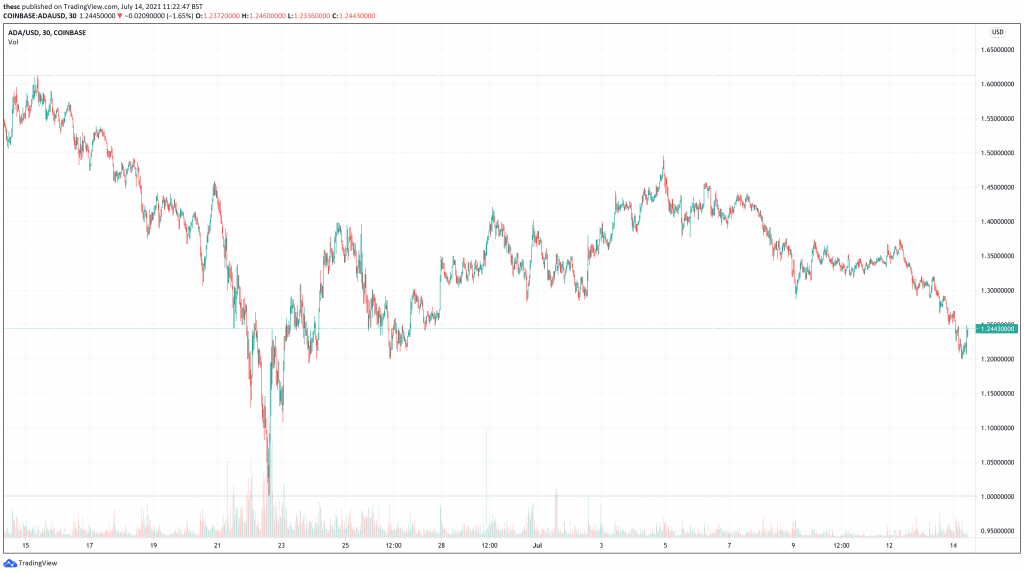 Despite its recent slippage, ADA arguably has one of the brightest futures of any major cryptocurrency. It's already using a proof-of-stake consensus mechanism, unlike Ethereum (which is taking a painfully long time to transition to one). It's also on the cusp of rolling out smart contracts, which are due in August.
Once it does this, it will be capable of supporting a wide range of decentralised finance applications, turning itself into a fully fledged rival to Ethereum, Binance Smart Chain and other platforms.
Even without smart contracts, it has been steadily announcing new partnerships in recent months. This provides it with a good base for expanding further once its fully functionality does arrive.
In March, during our #CardanoAfrica special, we announced our groundbreaking partnership with @WorldMobileTeam in Zanzibar, Tanzania to connect the unconnected. As the program rolls out and accelerates, here's the latest from @IOHK_Charles @MrTelecoms & @jjtoconnor #Cardano $ADA https://t.co/NKtVoVc7Xp

— Input Output (@InputOutputHK) July 9, 2021
As we've noted before, founder Charles Hoskinson has played up this incoming transition by boasting that over 100 companies are ready to switch to Cardano. Regardless of the exact number that do make the move, the arrival of smart contracts and DeFi should boost ADA considerably.
Capital at risk